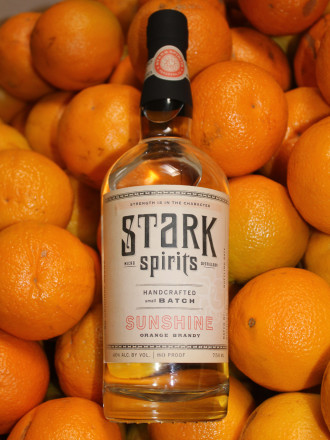 May 10, 2015
Sunshine Orange Brandy is something totally unique, an Eau de Vie de Orange. Not a sweet sugary liqueur, but a wonderfully delicious spirit of the orange. Sunshine Orange Brandy is made completely from oranges and their juice and nothing else. It is made from locally grown Valencia oranges, from farms in Simi Valley and Ventura County. A brandy is a spirit made from fruit—and that's what Sunshine has in common with brandy as you know it, it's made from the wine of fruit. Sunshine has the intensity of flavor, the smoothness, and heat of spirits made from grains–totally unique, completely surprising. The sweetness of oranges and the bitterness of orange peel with notes of spicy clove and floral lavender make for complexity and depth. Sunshine gives you a true spirit of Southern California, bright, fresh and zesty, a pure 100 proof orange spirit beverage that lives up to its name. Stark Spirits' Sunshine is handcrafted to light up your days and warm up your nights. Stark Spirits  is a true craft spirits brand and this product is full of character.
Mixology Notes:
Sunshine is made without sugar. This allows you to control the sweetness of your cocktail. It adds intense orange aromatic to the nose of the drink. Its expression of orange rind bitterness enhances bitters, but use less of them.
Tasting Notes:
Nose: Clean, bright – Orange Peel, roasted orange, slight hint of lavender, and winter spices (clove, nutmeg, and cinnamon).
Palate: Comes on hot— a flash of heat that dissolves into orange flavor, good mouth texture. Again a light taste of winter spice, a stronger presence of orange fruit, then mellowing into just a bite of rind bitterness, softened by some sweetness of orange at the end, the taste of real orange.
Finish: Long and citrusy, clean and acid. The heat of spicy orange leaves a lingering memory of real orange.
Balance: Good balance, some acidity.
Awards:
Silver Medal: Unaged Fruit Brandy ADI 2016 Craft Spirit Competition
Drink Recipes Featuring Sunshine Orange Brandy:
Batch Information:
Batch 1: Released December 17, 2015
50%
100
750ML, 375 ML, and 50ML