Stark Spirits really is a micro-distillery—less than 1200 square feet, in The Business Park of Pasadena, down the street and around the corner from the Pasadena Rose Bowl.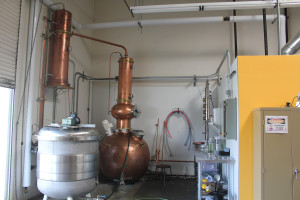 Greg Stark and Karen Robinson-Stark are co-owners of Stark Spirits Micro-Distillery.  We are also husband and wife, and we make sure our business partnership maintains the same basis for success:  a mutual and egalitarian relationship. Working very closely together-literally, considering the size of Stark Spirits, we have created a space that utilizes every square inch and holds everything an artisan distillery needs.  Obtaining the equipment, retrofitting the facility, navigating the permits and licenses requirements gave us ample opportunity to live our motto:  Strength Is in the Character
We've been through an experience that seems to be that of every micro-distillery that is the first in their locale. Going to city where a type of business has not has been before is quite a challenge.  It has all turned out very well for us. There was a line as soon as we bottled our first products, California Silver Rum, and a longer line for our orange brandy, Sunshine, even before it was bottled.  Our distributor has already placed our products with local retail stores, and Stark Spirits is on the map.
---
Greg is the master distiller at Stark Spirits Micro-Distillery.
Greg's passion for creating exceptional single malt whiskey is the foundation for Stark Spirits existence.  He has a solid grounding in the science and art of fermenting, the fundamental process for creating distilled spirits, from 30 years of homebrewing award winning beer and mead. The 3 years of barrel-aging necessary to create Stark Spirits Barrel-aged Single Malt Whiskey can't go by soon enough.
Greg has developed a fine palate for premium rum, and the production of silver and gold rums will keep him very busy while the whiskey matures in the barrels. Barrel-aged rum will be available much sooner, 1 year and 2 year releases are planned.  He's especially proud of Stark Spirits 151 Rum, excitedly fiery in both nature and taste, too high proof to be barrel-aged!  Greg's most unique Stark Spirits product is Sunshine, a 100 proof spirit beverage made completely from real oranges and pure orange juice. Sunshine is a challenging spirit to make, but the effort is well worth it.  Sunshine is a fabulous brandy that surpasses any new make whiskey.
---
Karen's interest in distilling gin is rooted in her childhood.
The aroma of London Dry gin takes her right back. A classic martini was the beverage of choice for the dance club that assembled every Friday in her family's entertainment room for many years.  Not surprisingly, a classic martini is almost always Karen's cocktail of choice. Having a fine Irish and Scottish background, however, provided her with a sound foundation for the enjoyment of premium whiskey. Karen's flair for the zest and adventure of cooking with herbs and spices inspired her to learn to distill a spirit beverage filled with zest and adventure.  The possibilities for a superb gin are enchanting. Karen takes handcrafting small batches of artisan spirits seriously. She intends to add a new and different gin to the Skyline series as often as possible.  Skyline I, II and III are on Karen's horizon.