September 15, 2016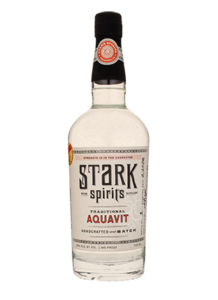 PASADENA, CA – August 12, 2016 –Southern California spirits manufacturer, Stark Spirits Distillery, has continued a 2016 winning streak with their version of a classic Scandinavian spirit. The distillery received a gold medal this summer from the California Craft Spirits Competition for their new Stark Spirits Traditional Aquavit. 2016 marks the inaugural year of the Craft Spirits Competition, a subset of the larger Central Coast Wine Competition which has been taking place since 2011. Stark Spirits distillers Greg Stark and Karen Robinson-Stark were honored to accept this prize, which comes hot on the heels of bronze medals, silver medals, and a "Best in Category" awarded this spring to their product family from the American Distilling Institute (ADI). Stark Spirits Traditional Aquavit is their latest offering to join the award-winning lineup.
Introduced in April of this year, Stark Spirits Traditional Aquavit has the flavorful characteristics of rye bread and caraway in the Scandinavian tradition. A unique Californian take on the classic Nordic spirit, it showcases high quality caraway and grains of paradise, but leaves out star anise for a more angular taste. Stark Spirits Traditional Aquavit is delicious served in the customary style: Ice cold and neat with any food, especially Danish smorgasbord. Though its signature caraway gives Aquavit a potent, savory bent, this offering from Stark Spirits also mixes well to create spirit-forward cocktails in a more American presentation.
Stark Spirits' entire product line includes: California Gold Rum, California Silver Rum, California 151 Rum, Sunshine Orange Brandy, California Single Malt Whiskey, Peated Single Malt Whiskey, and Traditional Aquavit. Stark Spirits Skyline Gin is also coming to market in the near future.
About Stark Spirits
Stark Spirits is a true micro-distillery based in Pasadena, California. At less than 1,200 square feet, the facility uses an efficient design to produce small batches of distinctive spirits. It is the first distillery of this size, and the second distillery over all in the greater Los Angeles area. Stark Spirits was founded by husband and wife team Greg Stark and Karen Robinson-Stark, who share a common vision of producing spirits that are robust on the palate and in character. A bottle from Stark Spirits always contains a taste of adventure in the California sun!
More information at: www.StarkSpirits.com
About The California Craft Spirits Competition/Central Coast Wine Competition
The Central Coast Wine Competition (CCWC) encompasses wines produced exclusively from the Central Coast regions of California, and is the largest event to focus on these fast-growing wine regions. Since 2011, The CCWC has recognized the incredible quality and diversity of wineries and grape growers, providing trade knowledge, feedback, and friendly competition. The California Craft Spirits Competition was launched in 2016 to help promote Californian craft distillers producing fine artisan spirits, and provide them with expert feedback on the quality of their expressions.
More information at: www.centralcoastwinecomp.com
###