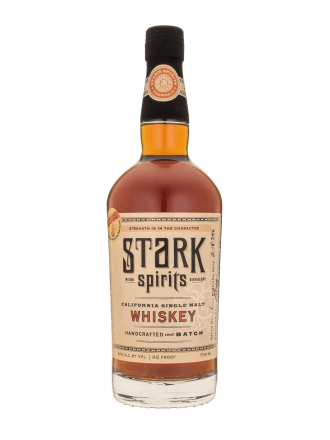 July 1, 2016
This extraordinary California Single Malt Whiskey is one of the best Whiskies made in California by a craft distiller. Made from a wash of 100% malted barley grains, then double distilled.  Aged in a combination of new American Oak barrels and Bourbon barrels to perfection. Stark Spirits Whiskey expresses excellence in every drop!
This whiskey meets the standard of identity for an American Single Malt Whiskey as set by the American Single Malt Whiskey Commission (ASMWC).
Hand crafted in small batches, as individual as you are.
Tasting Notes:
Nose        Easy, accompanied by sweet caramel maltiness.
Palate      Steady arrival, gentle light vanilla flavor that is intertwined with sweet coffee cocoa bean, chocolate. Light mouth feel with full-bodied flavor and a touch of heat.
Finish        Medium, leaves you with dry with bitter almonds.
Awards:
Batch Information:
Barrel BBL 52-05 Released January 2017
Barrel BBL 53-12 Released February 18, 2016